When Do Employees Become Unhappy?
How soon is too soon to be unhappy?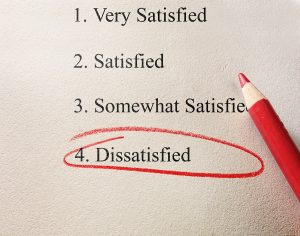 We have lots of research on our hands that show that dissatisfied employees lead to less productive employees, lower customer satisfaction, higher turnover, disengagement, lower morale, disintegrating company culture, and … well, you get the picture.
Knowing that opens a lot of questions. Such as, when and where does that start? No one wakes up one day and over their Triple Venti Half-sweet Non-fat Caramel Macchiato decides that starting today they will be unhappy at work.
Is it just the older workers? Is it these millennials? Is it the whole crew? They were all disloyal, every one of them! (doing my best Humphrey Bogart there).
Before we address that, let me give you a little perspective.
Promises Made
You may remember that feeling you had when you first graduated school. Around 1985 that was me – somewhat. Vaguely fresh out of college will that confidence that all the wonderful education I just got fully prepared me to conquer the world in whatever I chose to do.
I accepted a position as a management trainee with a furniture rental company. It was an 18-month program where I was to train in every phase of store operations. After the training, I would then become an assistant manager in one of the nationwide stores. That was the promise.
Promise Broken
Come 18 months later I am still where I started in credit and collections. I did not get exposure to every phase of the operations. I managed receivables and reduced past due accounts. I wasn't stuck there because I wasn't good at it – quite the opposite. I was stuck there because I was very good at it. I took the store from worst to first in the company in receivables with the lowest past due percentage.
But I didn't sign on to be a collections person.
Be a Team Player
When I spoke with the general manager that they weren't keeping their end of bargain, I was told I was there because they needed me there. Regardless of whatever promises were made, I would stay in collections as long as I was useful there and I needed to be a "team player" and go along. You ever notice how controlling people use that against you?
So, I became increasingly unhappy. My attitude changed. My performance sank. Receivables became to climb again to unsatisfactory levels.
I was given an ultimatum. I had 30 days to bring things back where they were. An impossible task but I tried. My heart wasn't in it, however, and I fell short. I was fired.
I was 26.
Is 35 Too Early?
It's one time I am not proud to be ahead of the curve. Very few become unhappy in the work in their mid-20s – unless they are generally unhappy anyway. Yeah, they exist.
According to a recent study cited in Bloomberg News, many start hating their jobs at age 35. That is about the age of the earliest Millennials. But it doesn't stop there, It also includes Generation X and late Baby Boomers as well. The study showed that groups older than that also became increasingly unhappy in their work.
Was it because their job sucked? No, it was because their workplace sucked. One interviewee for the study reported that they felt "performance managed to death" and they were unappreciated and unloved.
One in Six Are Discontented
The survey showed that 1 in 6 in the 35 year old age range reported feelings of discontent, about half as many as those of  younger. Explanations varied but centered on lack of appreciation from their boss and a lack of friendly relationships at work. Older employees, usually in the 50 year range, said they felt they were being pushed aside for younger employees.
The problem, then, appears to be cross-generational and cross-cultural. If the problem isn't Millennials and it isn't an ethnic culture and it isn't work ethic, where does the problem lie?
Ten Reasons People Hate Their Job
Author Liz Ryan writing in Forbes Magazine says the top 10 reasons hate their jobs are:
They are not respected.
Management fails to equip them properly for the job.
There is a lack of consideration for their personal life.
Their boss is a tyrant.
They are tired of being lied to.
It's hard to believe their boss will do the right thing.
Politics in the workplace make it unpleasant.
They feel underpaid and overworked.
Employees feel they are making no progress, both in their careers and projects.
The employee must be constantly on alert because the wrong word or action sends them out the door.
When employees experience these feelings they become unhappy. And we already talked about where that leads.
Solving the Unhappy Employee
The critical question becomes what to do about it? They are unhappy and that downward spiral is ahead. How do I make them happy?
You don't. Happiness is not your job.
You can, however, create an environment in which an employee can create their own happiness or at least enough satisfaction to become productive again.
Three Ways to Help Employees Become Happy
Have a One-on-One Conversation.

It's not a time for a reprimand or "counseling session" or even a coaching session. It's time to ask questions and listen. Discover what is creating the discontent or unhappiness. Don't argue the points or try to counter. Just ask probing questions and listen. If you are stuck with probing questions to ask, simply use something similar to "That's interesting. Tell me more."

Regular Check Ups

Set a reminder on your calendar to follow up with the employee every week for a few months. Simply check in and see how they are doing. What's new and what's changed.  The follow up is critical because it goes a step beyond the standard. Think about it. How many times have you had a meeting and nothing came out of it and nothing happened. It's important you don't let that happen here.

Catch Them in the Act

Intentionally try to catch them doing something good. Excellent work, a great attitude, over the top cooperation with a team. Anything they can do well that you can notice. Remember that one of the things that made many people unhappy with their jobs was a lack of appreciation.
What jobs did you have where you started off well and grew unhappy with it? How did you handle the change? What do you do with a unhappy employee now?
OH! If you email me you can also get a FREE copy of my e-book 15 Innovative Ways to Show Employees You Care Without Breaking the Bank. it provides some excellent proven methods for creating connections with your employees at minimal or no cost. If you want to start building engagement, you want this book to help establish those channels of caring.