It's Time to Throw Out Employee Probation
Have you ever seen a Company policy that doesn't benefit anyone and yet still persists as a standard policy?
I'm sure you have. So have I.
One of the worst offenders is the employee probation. It serves no real purpose, provides no real benefit, and yet is put into place in virtually every organization.
It's time for probation to go.
Instead let's spend more time building relationships that equip and empower employees for performance.
Probation Means Employment at Will
If you have ever worked for anyone else – big company, small company – you were probably hired under "probation". In most cases this probation is around three months but sometimes even goes as high as six months.
The idea is that the company has a chance to see how you work out before fully committing themselves to permanent employment for you. In theory within the probationary period they can let you go just because you wore a brown suit instead of a blue suit one day.
Legitimate Reasons for Employee Probation Termination
Usually the reasons aren't so petty. In fact, according to one study by Spring Personnel here are the most common reasons for dismissal during probation.
Poor Performance.
Absence.
Lateness.
Gross Misconduct.
Sickness.
Which sounds a lot like the reasons for firing people when they aren't on probation.
Even then, only about 13% of the companies surveyed actually reported an employee not surviving the probation.
Now, a qualifier: those statistics are from the United Kingdom where the rules are different than they are in the United States.
How Employee Probation Works in the United States
In the U.S., rules vary from state to state and, in fact, there are very few rules about probationary periods at all. Many states, such as Florida where I live, use the standard of "employment at will". Without getting too legal, it basically means that your entire employment is based upon the whims of your employer unless you have a specific employment contract in place. So even after your probation is over, an employer can terminate your employment without real cause. It's almost like your probationary period goes on forever.
So if you are an employee, probationary periods certainly offer no benefit to you.
Probation Offers No Real Benefit to Anyone
It appears that if you are an employer a probationary period may not offer too many advantages either.
In the article Beware of the Initial Employment Probationary Period, HR Consultant Amara Marcoccia says that probationary employees pretty much have the same rights by law as non-probationary employees.
That means they can file lawsuits and administrative complaints against you whether on probation or not.
No Real System in Place
Even more interesting, Amara interviewed companies about why they had a probationary period.
They didn't know.
When asked what was different after the probationary period was over,
they didn't know.
So part of the problem is that there is no real formalized process in place to move an employee from "probation" to regular employment. Even if there was, there is still no real guarantees either way.
So why do we have employment probation?
The policy was initially implemented with organizations that had to work with labor unions. Since there is a level of skill involved in most union-related trades, competence is a factor. Unions don't want skilled members being subjected to the whimsy of the company and the employer doesn't want to be stuck with someone who doesn't have the skill set.
So a collective bargaining agreement removes the privileges of the union's grievance process for a probationary employee terminated within the probationary period. In other words, until they complete probation it is employment at will. It only applies to trades covered by the union.
So that's the big issue. Without a union and/or collective bargaining agreement, depending on which state you live in, there is no protection for either employee or employer in an employment probation policy.
Benefits of Probation Without the Hassle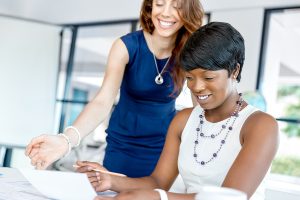 So what if we invest in hiring slow and firing fast. What if we focus on aptitude and attitude instead of solid resumes?
Maybe instead of worrying about probation, we worry about employee productivity?
What would change if we put ourselves on probation?
Employer Probation
Imagine that upon hiring a new employee, instead of giving them a probation we make an investment in productivity.
1. Assign an experienced competent employee with an excellent attitude to be their mentor.
Lockheed Martin does on-boarding fairly well and this is one of the things they do. It helped me a lot to have someone who knew the ropes helping to hit the ground running. When I arrived at my workplace, the mentor had everything in place that I needed. Later, I got to pay it forward with a new employee.
2. Block out time on our calendar for regular meetings with the mentor to track progress.
You can't be there every moment. It helps to be able to depend on the insight of someone who is having close daily contact with the new hire. Doing this also means you can more quickly respond to signs of problems.
3. Schedule time to meet and talk with the new employee over coffee or lunch to get to know them and build connection.
The more you get to know them you get to know what they like. You get to know what drives them. Then the easier it is to provide circumstances that motivate them and provide work that inspires them.
4. Invest time and money into equipping them to do the work we hired them for.
Just because they had a good resume does not mean they have everything they need to do what we want them to do. It's important to remember the old adage here: the only thing worse than training them and they leave, is not training them and they stay.
5. Implement a 360 assessment at the end of 90 days to find out where both employee and employer are in terms of gelling together.
You want to be assured that they get along with others, they fit with the team, and they add value. They want to feel comfortable, welcome, and a part of things. If either of you feels queasy about things, this is the time to discuss it.
6. Set goals for how to move forward.
If employment continues at this point, you know want to set the bar higher. Mutually agree on productivity and development goals that gets the most out of the employee and provides the greatest benefit for everyone.
Is it possible that from that we would end up with someone better prepared to significantly raise their productivity? How do you think they would feel about about you, about their co-workers, and about the organization as a whole? How would that affect their attitude?
What do you think? Is it time to terminate probation? Share your thoughts here or write me at psimkins@BoldlyLead.com.
If you want to talk about how I might be able to help your organization move to Boldly Lead your teams, schedule an appointment with me right away.