Leadership Truly Starts at Home
The Passing of a Leader
My father, Paul F. Simkins, Sr., passed away recently after a year and half battle with cancer. He left a tremendous legacy in his chosen field, the Credit Union industry. He was a pioneer, helping lead the way in community charters. He founded an ATM network for credit unions that is now the largest in the nation. He had a national reputation in the industry. You can read more about it here in the Credit Union Times.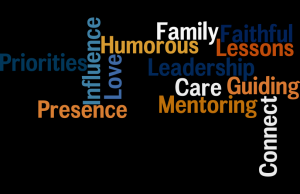 What follows is a trimmed down version of the remembrance I shared at his funeral. I share it here because my leadership journey began here. It is my hope you will look at the leadership lessons you can learn close to home as well. It better prepares you for the lessons you can learn elsewhere.
Remembering the Leadership Lessons
So I am up here today to make the speech you secretly hope you won't have to make, yet deep down know one day you will.
And while I make a living making speeches, I have found this one to be one of the hardest to make. At the same time, it was one of the easiest. Hard because of the circumstances, easiest because there are so many things I could say about my father. The content is there in the life he lived but I was told to keep this short so the challenge is editing it down.
I am the namesake of Paul F Simkins Sr. Many will tell you we share more than just a name; some of it good and some not so good.
We both had to deal with sleep apnea, hypertension, and a tendency for gout. We both have had to deal with issues with our weight. Large noses run in the family. As I have joked several times recently, we tend to be a phlegmatic family. That was inherited.
Yet there is many more good things that I got than bad. The lessons I learned from my father through his words and his actions. From him I learned what to do and even what not to do. It's these leadership lessons that stay.
Dad taught us to be faithful. Attendance and participation in church was expected and encouraged. Being an active part of the faith community was important. He built relationships with the pastors and would ask them questions and challenge them. In the end, Dad became comfortable with his pending death because, in his words, "I know where I am going."
He taught us that family came first. Whether he was taking us on an adventure, or to baseball practice, or Boy Scouts, or dance class – sitting around the house or disciplining us he never left any doubt as to how important we were. Like most families, we had our moments but they were just that – moments. When the smoke cleared we were still family and the bond was still important. Even as we the children went off and established our own lives, much of it still revolves around the family as a whole.
Dad taught us presence. Having been involved as a teen, Dad loved Drum and Bugle Corps. When I had a chance to join one, he came along with me and participated in coaching the drum line.  I joined little league and they needed a manager for the team or there wouldn't be a team. There was Dad. Same with Scouting. We needed a Scoutmaster or no troop. There was Dad. As a result, the influence he had was not just on me, but on dozens of other kids and adults over the years. I am a Scouter today because my son, Charlie, is passionate about Scouting and because of the lesson I learned from Dad to care for and influence others.
He was there for people in his business as well. Several managers and executives in the financial services business will acknowledge they owe their career path to Paul Simkins. He saw potential, gave them an opportunity, mentored them, and helped them to shine.
Dad taught me how to love your wife and make her a priority. As important as we children were, it was very clear to us where we stood in the pecking order. Dad's world, first and foremost, revolved around his bride, Martha Jo – Mom to me. He was fully devoted to her, loving, affectionate, and thoughtful. I've tried to model that in my relationship with my wife, Sherry. You'll have to ask her whether or not I have succeeded.
He taught us humor. Ask anyone who knew Dad and they will talk about how he was funny, entertaining, that he had a great sense of humor. One of our favorite pictures we included in the slide show is of several of his grandchildren sitting around him on the couch. He was supposed to be reading the Christmas story to them, yet in the picture all of the children are practically rolling around the floor laughing. You just know he said something – a funny voice, a funny name, something silly – that made them delight in peals of laughter. He brought humor into his workplaces and his interactions with others. He used it as a tool to connect with people and make them feel at ease around him. It speaks volumes that many of the memories shared about him revolve around that.
My father's life was a model of how to care for, connect with, and influence others. Not a perfect model to be sure but an effective one. His influence lives on forever in my life and the lives of so many others where he made a difference.
What lessons are there for you within your family? Within your community? What have you learned that stuck with you? Share your thoughts here or email me at psimkins@BoldlyLead.com.