The Message They Give When They Say It's Not Personal
Michael Corleone Sets a Tone for Many a Businessman
It's a well remembered piece from the movies. That scene in The Godfather when Michael Corleone comes up with the plan to kill the rival mob boss and the corrupt police chief in one fell swoop. His brother Sonny laughs it off and reminds him that it is business and he is taking it personally. Michael replies "It's not personal Sonny. It's strictly business!"
It's Not Personal
Have you ever heard somebody tell you, "don't take it personal, it's just business!"  It seems to happen whenever does something that they know is going to upset someone else. It's a popular way to justify treating others badly for our own personal gain. It helps to avoid the emotional aftermath of a highly charged exchange.
It's hard to say if it occurred before The Godfather came out or not. Yet for a long time, there was an emphasis on separating your personal life from your business life. After all, business is business. When you are at work there is simply work. Personalities, lives, emotions, the things that make us human all have no place in the world of business. Right?
Don't Buy the Lie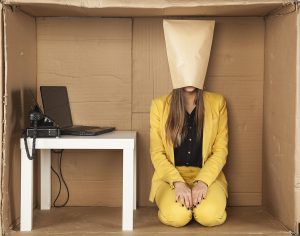 But the truth is you spend 1/3 of your day involved in the work that you do. Think about that for a moment. A twenty-four hour day. Let's say you sleep for 6-8 hours (lucky you!). There is from 1/4 to 1/3 of your day right there; leaving 16 hours. Therefore, if you work full-time then a minimum of 50% of your waking hours is spent at work.
So you are being asked to put aside everything that is happening in your life for that 8+ hours. The stress not only of your life but your career as well. And when someone does something that causes a well-up of emotion in you, you are being asked to squelch it because, after all, it's only business.
It's ALL PERSONAL!
Don't believe it! You are emotionally invested in the work you do. If you're not, you have a whole other problem. I recommend changing jobs. You cannot perform your best unless you are emotionally invested. As a result, the work you do cannot help but be personal.
But it's not to be taken personally. And that's the key.
The Fine Line
So if it is all personal but not to be taken personally, how do you do that? Admittedly, it's not easy. Especially when we emotionally invested there is a tendency to think that anything that gets in our way was put there specifically to stop us.
There is where the development of emotional maturity comes in. When we are emotionally secure we learn to express emotion, to feel it, and yet not let it push out of control. We balance the rational and the emotionally charged.
How to Avoid Taking It Personally
Here are four steps that are going to help you along that way to developing emotional maturity.
Recognize your true value.
Be always aware of what it is you add to a situation to make it better. When you understand what your true value is then you are less likely to take things personally.
Understand that no one really targets you personally.
Most people are way too wrapped up in their own lives to spend much time thinking about you. So when you think that someone is out to get you, actually they are probably not. I'm sure you have probably had your kids come to you and tell you, oh this teacher hates me. And the teacher probably isn't giving them a second thought when they get home.
Take the time to communicate and listen with your leaders.
Communicate to them what your desires are, what your concerns are. But also listen to the input they have for you because you are going to find that a lot of times the reality is a lot different than your perception.
When you talk, avoid hyperbole.
Avoid saying things like "you always do this" or "you never do that". Also avoid the negative people that are going to affect your life.
If you take these steps, you are going to get closer to being able to emotionally invest in your life and not take things personally.
What are your coping methods? How do you separate being personal and not taking it personally? Leave your comments here or email me at psimkins(at)BoldlyLead.com.