Your Best As a Leader Depends on Your Questions
We love answers! We want to know! Why has the term "Google It" become so popular? Because it is a quick and easy way to find answers. Type in a phrase or keyword and in a flash Google gives you results. Lots of results!
Outside of Google, how do we find the answers we seek?
We ask questions.
Questions Get to the Basics
When I took a class in journalism at the University of Central Florida (GO KNIGHTS!) they emphasized that a journalist always seeks to find answers to the certain details about a story. The answers are covered with the acronym WWWWWH. That's Who, What, When, Where, Why, and How.
WHO is involved in the story?
WHAT happened?
WHEN did it happen?
WHERE did it happen?
WHY did it happen?
HOW did it happen?
If you answer those questions you have told the reader most of what they want to know. Everything else is details.
Applying Questions in Life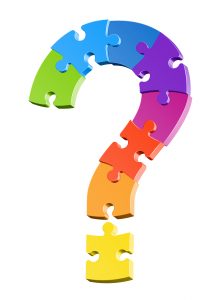 I've kept that idea and tried to apply it to my life. In general I try to use questions as much as possible to learn, to discover, and to get clarity.
Sometimes I ask those questions of others. Most of the time I ask them of myself.
As a leader, we need to question ourselves often. Not the questions of doubt and deceit. Those are the questions that are meant to tear down; to break down our confidence, destroy our purpose, and rationalize choosing the easier path.
The questions we need to ask are ones that build, that focus, that reinforce our confidence, reaffirm our purpose, and show us a path no matter the difficulty. According to John Maxwell, author of Good Leaders Ask Great Questions, asking questions provides several benefits:
You Only Get Answers to Questions You Ask

Seems obvious, right? But amazing how often we don't ask questions about what we want or need to know.

Questions Unlock and Open Doors that Otherwise Remain Closed

Peter Drucker once said, "My greatest strength as a consultant is to be ignorant and ask a few questions."

Questions Are the Most Effective Means of Connecting With People

Have you ever stopped to ask directions from a stranger, say when your GPS is lying to you? How many told you to go away without giving you directions? Not many I would bet. A simple question generates interest.

Questions Cultivate Humility

When I was fresh out of college with my degree, I felt I had to have all the answers so I never asked questions. The more I learned, the more I learned what I don't know. Questions help me discover that even more but helps me learn faster.

Questions Help You Engage Others in Conversations

Look at talk show hosts. Their entire existence revolves around asking questions of celebrities to start a conversation.

Questions Allow Us to Build Better Ideas

What we discover from others leads to great things. When I work with clients I use this to help them improve their workplace.

Questions Give Us Different Perspective

When we want to do things differently we have to see things differently and overcome our assumptions.

Questions Challenge Mind-Sets and Get You Out of Ruts

We settle into the familiar. Asking questions like "why" and "why not" can disrupt our status quo.
Start with Questioning Yourself
I recently read a blog about the 11 Questions You Should Ask Yourself Every Day. It was impactful and insightful. Unfortunately, it is on a subscription service and I am not able to share it here. If you want to find it yourself, the subscription program is called Maximum Impact Mentoring.
That was 11 questions and that may seem a bit much. Most of us complain we don't even have time for breakfast, much less time time to go through a bunch of questions every day. Eventually you want to get there but in the meantime…
Let's Go Simple
The statesman and philosopher Benjamin Franklin has been said to guide his life by asking himself two questions. In the morning he would ask himself, "what good will I do today?" and then in the evening before going to bed he would ask "what good did I do today?"
Simple and if you think that's enough for you, that's great, go for it. If you want it more customized to your role as a leader, however, let's try something else. For best results, I recommend keeping a journal. Use Evernote (my favorite), a diary app, or just a spiral notebook or composition book. Every day, set aside 5-10 minutes and ask these questions. Modify them based on whether you do this in the morning or evening.
What did I learn yesterday (today)?
How did I add value yesterday (today)?
Who do I need to recognize today (tomorrow)?
How will I focus on my strengths today (tomorrow)?
Who will I show appreciation to today (tomorrow)? 
Do you ask a lot of questions? How did not asking questions cost you? How can you make sure you lead with questions?