Team Building Through Connecting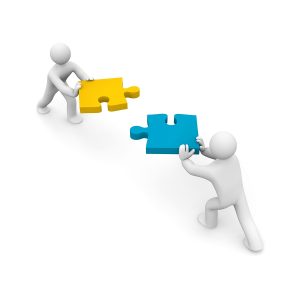 Although an often misused buzzword, connecting with others is one of the most critical leadership skills. If you are not connecting with your team and they are not connecting with each other you have trouble. Maybe not immediately, but very soon. Without connecting then communication, collaboration, and execution become significantly harder, if not impossible.
What is connecting? Simply put, it is the ability to identify with people and relate to them in a way that increases your influence with them. 
Why Are You Connecting?
So why is connecting and increasing our influence important? Influence is the precursor to success with people.
Jay Hall of the consulting firm Telometrics studied the performance of 16000 executives and found a direct correlation between achievement and the ability to care for and communicate with other people. In other words, caring and communicating translate to influence and leadership which translates to success.
Benefits of Connecting with Your Team
Increasing Influence
As we mentioned above, a primary advantage of connecting is building influence. We all influence; some big and some small, some positively and some negatively. Where we win with people is developing our influence to be greater and greater and always positive.
Strengthening Trust
When we reach the level of connecting with others they learn to trust us more. And we learn to trust them. Trust is the foundation for any group of people to be able to work together effectively and productively. Not fear. Fear has short-lived results and disastrous long-term results. Trust builds.
Meeting a Basic Human Need
Believe it or not everyone, and I mean EVERYONE, desires to connect with others. Introverts, extroverts – doesn't matter.
Personal Accomplishment
According to a Harvard Business Review article, "The number one criteria for advancement and promotion is the ability to communicate effectively"
Why Aren't You Connecting?
Bosses and leaders have trouble connecting because they don't lay the groundwork. But why don't they lay that groundwork? While the answers may vary, generally I believe it falls into one or more of these reasons:
You Don't Care
This is the biggest barrier. If you don't care, you can't connect. And frankly, if you don't care there may be nothing that can help you. To be blunt about it, if you don't care you have no business being a leader or a manager. Quit. Now.
Or look inside yourself and realize you really do care and the reason must be somewhere else.
[tweetthis]If you don't care you have no business being a leader or a manager. Quit. Now.[/tweetthis]
You Worry About Changes in the Relationship
When someone has or moves into a position of official leadership there is a concern that there must be some kind of invisible wall there that separates us from them. The wall is our protector because if we actually care for and connect with our team then we risk emotional impact when they leave – no matter the reason they left.
Fear of Vulnerability
Leaders need to show vulnerability if they want to connect with their team. They have to know you are a real person and that you can empathize with what they are feeling because you are or have felt it yourself. However, some equate vulnerability with being weak and think that showing weakness opens you up to attack or challenge. It goes back to the us vs them mindset.
Trust Issues
If you basically believe that everyone is lazy at heart, if they automatically try to get away with doing as little as possible, and will take advantage of you the first chance they get then certainly do not trust them. If you do not trust them, connecting with them does not seem like something you want to do. And it's definitely something they don't want to do because if you don't trust them they don't trust you.
Self-Esteem
If you don't like yourself, it's hard to like anyone else. As I researched this, I ran across several forums where people were talking about their inability to connect with others. The biggest reason for it was that they just didn't like other people. Most of them also expressed that they didn't like themselves very much either. It runs from the inside out.
You Don't Know How
Many just do not know how to connect with others. They are terrible at "small-talk", are uncomfortable with revealing questions, and are simply not sure where start.
Connecting 101
So let's work with that last one on the list of reasons: you don't know how. It's somewhat understandable. To people who are task-oriented connecting with others just seems like fluff and they never bothered to learn. Others have varying levels of social awkwardness and even social anxiety that make it difficult.
But connecting IS a learnable, very learnable, skill. It starts with just a few simple techniques.
Start with Common Ground
This should be the first technique you try because it is easy and you can do it right now. Find something that you have in common with the other person. What seems to be small-talk about significant others, children, activities, and so on are actually very important topics for finding common ground with others. Remember, too, that common ground is ALWAYS personal. Just working in the same place is not usually a good connecting point.
Keep It Simple
Too many people want to make what they say seem important by making it complicated. Yet simpler is better. Sometimes, simpler can be harder to do. The mathematician Blaise Pascal once wrote to a friend, "I have made this letter longer than usual because I lack the time to make it short."
People generally see through our attempts to cloud things with complexity. Remember that good connectors bring people clarity, bad communicators leave them confused.
Be An Encourager
Just like we all want to connect, we also want to be encouraged. No one rejects an encourager. And people willingly connect with an encourager. A caveat: be genuine with your encouragement or you will have the opposite effect.
Focus on the Other Person
Be interested. Listen carefully. Dale Carnegie in his flagship book How to Win Friends and Influence People puts it this way: "If you want to be a great conversationalist, be a good listener. If you want to be interesting, be interested."
Disconnect
Put down your smartphone, stop tapping on your keyboard, and pay attention. We make better connections with people when we aren't connected to anything else in the moment.
What's the biggest challenge you have connecting with others? Can you think of someone who connected well with you? What did you learn from that?