Core Values Build the Team
Building a successful and productive team or organization takes time. You build it one block at a time. You want team members to know their roles and understand the expectations for behavior and performance. Yet that's the goal not the beginning. Start off with that and you are building a house of cards.
If a new building is to be structurally sound, the first thing they do is establish the foundation. The higher the building, the deeper the foundation. Skimp on the foundation and everything else is weak and at-risk. Disasters results.
So, too, does building an organization require a strong, solid foundation. Skip establishing the foundation and eventually everything collapses; either because of a lack of guidance or because of behaviors that tear down trust. You must have a strong foundation. You lay that foundation with core values.
What Are Core Values?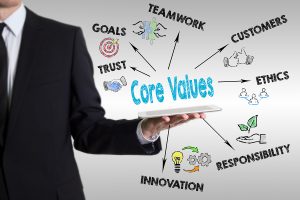 Core Values are the characteristics and qualities an organization, a team, or an individual defines as being at the heart of what they are about and how they will conduct themselves.
They are the principles that determine who you are and what you are about above all else. It is the soul of the organization. Your core values are unshakable – no matter what you will always reflect these values in everything you do.
Yet core values can also outline behaviors you expect with the members of an organization.
For years, one of
Google's
core values was
"don't be evil"
.
Infusionsoft
, a popular sales and marketing software company, lists one of their core values as
"We do the right thing"
. For many other organizations, they are simply one or two word statements such as
Integrity, Honesty, Communication, Employee focused
.
[tweetthis]Your core values are unshakable – reflect them in everything you do.[/tweetthis]
Why Are Core Values So Critical?
Establish Non-Negotiables
Determining your core values make it clear to employees, to customers, and to yourself what you will never compromise. When you establish a core value of integrity you are saying that no matter what else happens you are trustworthy, dependable, have strong morals, and people can count on you to do what you say you will do. Core values say you would rather the company go under than violate them. If you are not willing to die for it, then it's not a core value.
Foundation for Mission and Methods
Interestingly enough, I have found that when core values are in place first then writing those dreaded mission statements become easier. Determining the methods by which the team accomplishes its mission and goals becomes clearer. One leads to the other.
Outlines Expected Behaviors
As a result, when your values are set in stone and your mission and methods are established from that, it ends up describing the behaviors you expect everyone to exhibit. If honesty is expected and modeled, you tend to get honesty. If employee-focused is expected and modeled from the top it floods down to every department, every manager, and every team.
A Must-Have for Empowerment
For that reason, you cannot have real empowerment with having values in place. Or, more accurately, you cannot expect consistent performance in empowered employees without core values. If make a profit is emphasized but core values of honesty and integrity are not established, then the empowered employee feels free to do whatever they feel is necessary to make a profit, including cheating customers. Values create the guidelines within which empowered employees operate.
Attract the People You Want
In my mentor
John C. Maxwell
's book
The 21 Irrefutable Laws of Leadership
he talks about
The Law of Magnetism
.  This law states that who you attract is not based on what you want, it's based on what you are.  Who you are is who you attract. By developing your core values, you proclaim for everyone who you are, what you stand for, and what is really important to you. As a result, you will attract people who share those values.
Start with the Core
Therefore, like a bodybuilder starts by developing their core to strengthen their whole body, you start with core values to strengthen the organization. You define qualities that are necessary for consistent and strong performance. You make clear the standards that are non-negotiable in everything the organization does.
In fact, they should be in front of everyone's faces, displayed for the whole world to see. It holds employees accountable, it holds you accountable, and it sets expectations for customers.
Three Steps to Establish Core Values
Brainstorm a list of values, qualities, and character traits you would want your organization to reflect at all times.  Write them all down. Don't evaluate them, just write them down. If you already have a team in place, do this together. You may come up with a huge list and that's okay.
Now that you have the list, we can evaluate. Look at each item and first ask yourself, "Am I willing for the organization to die rather than violate this?" If the answer is no, it is not a core value. Strike it off. If you are honest with yourself on each one you should find your list pared down significantly when you are done.
Next to each one, on a scale of one to 10 rate your organization on how well it is displaying those values. Rate yourself and ask each team member to rate themselves as well. That accomplishes one of two things: it helps identify areas that need work or it causes you to question how important that value really is to you.
Can you identify the core values of your organization easily? How well are they followed? How do you make sure you attract the right people now? Drop me a line at psimkins@BoldlyLead.com.
If you are finding it difficult to establish your core values, contact me and let me help.